This post is part of the ongoing Tolkien Fan Fiction Survey series. For more details on the survey, hop on over to the Tolkien Fan Fiction Survey masterpost.
I am beginning with community demographics, asking the essential question: Who are we and how do we compare to fan fiction writers as a whole? To answer the latter part of the question, I am using Lulu's AO3 Census for comparison. Obviously, the comparison isn't perfect: Lulu looked at only one archive, albeit one of the largest on the Internet, and recruited her participants primarily on Tumblr. In comparison, my study included and recruited participants from multiple groups and sites used by Tolkien fanfic community members (although not all; Fanfiction.net was a major site that was unreachable unless the authors participated on other sites as well, since the site is very stringent about posting external links).
The survey asked participants, "What is your gender?" at the beginning of the survey, prior to beginning the questions directed specifically at writers and at readers of Tolkien-based fan fiction. Participants entered their response into a text field that allowed them to enter any gender identity rather than choosing from a limited list of options. As described in the survey introduction, twenty-two participants were removed from the data because they either didn't consent to participate (n = 1) or they didn't meet the criteria for participation, which required that the participant write and/or read Tolkien-based fan fiction (n = 21). These participants were not included in the data discussed here, even though some of them did answer the question, "What is your gender?"
Since participants typed in their response to this question rather than selecting from a list, then there was some variation in responses. For example, some participants entered "F" as a response, while others entered "female" or "woman." I classified responses within four categories: female, nonbinary, male, and no response. I did not ask whether participants were transgender or cisgender. Some participants provided this information as part of their response, however, and were included in the gender with which they identified, regardless of whether they were cis or trans. For example, someone who entered "trans male" would be counted under "male."
Most Participants Identify as Women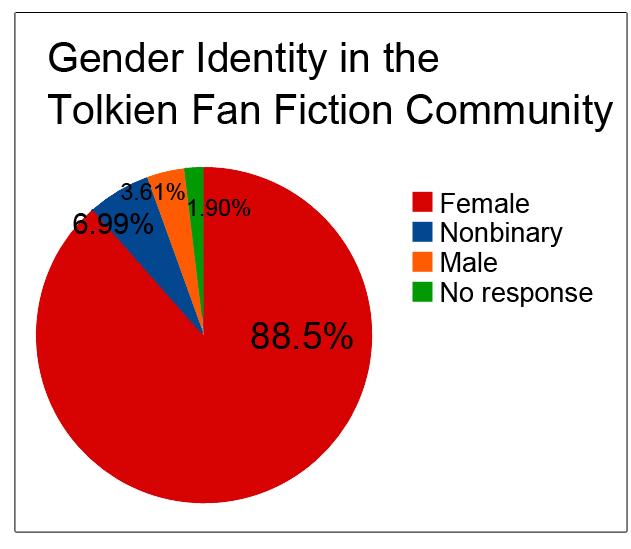 Fan fiction is widely known as a genre that is dominated by women. My survey showed that this was true for the Tolkien fan fiction community as well. An overwhelming majority (88.5%) of participants identified themselves as female.
Similarly, males were a minority: only 3.61% of participants identified as male. Just as Lulu found in the AO3 Census, more people selected nonbinary/genderqueer identities (5.99%) than identified as male.
| | | |
| --- | --- | --- |
| | Tolkien Fan Fiction Survey | AO3 Census |
| Female | 88.5% | 80% |
| Nonbinary | 5.99% | * |
| Male | 3.61% | 4% |
| No Response | 1.90% | 0.2% |
*Lulu's survey allowed participants to select multiple identities from a checkbox but also add other responses in a text field. This makes her data difficult to include in tabular form. The AO3 Census gender results page shows the breakdown of her results.
Other Factoids Related to Gender and Tolkien Fan Fiction
Women were most likely to list escapism as a motive for writing fan fiction. When asked to respond to the statement "Writing fan fiction is a form of escape for me," 86.0% of women agreed or strongly agreed. In contrast, 83.3% of nonbinary participants and 77.8% of males agreed or disagreed.
Participants who entered a gender identity that was not male or female were far more likely to view representation of underrepresented character groups as a motive for writing Tolkien-based fan fiction. When asked to respond to the statement "Writing fan fiction allows me to explore the perspectives of female characters," 90.5% of nonbinary participants agreed or strongly agreed, compared to 77.5% of female participants and 74.1% of male participants. When asked to respond to the statement "Writing fan fiction allows me to explore the perspectives of LGBTQ+ characters," results were even more dramatic: 92.8% of nonbinary participants agreed or strongly agreed, while only 57.0% of women and 80.4% of men agreed or strongly agreed with the same statement.
Slash is often identified (and sometimes criticized) as a genre written by women. Survey results, however, showed that this was not the case. When asked to respond to the statement "I identify myself as a slash writer," women and men agreed or disagreed at fairly similar rates, with the men agreeing slightly more than the women: 45.9% of women and 48.1% of men. Participants who identified as nonbinary were most likely to also identify as a slash writer, with 54.8% agreeing or strongly agreeing with the statement.
Analysis