This week's post ties up a few loose ends from the past weeks' posts and discussions surrounding my and Janet's cowritten paper The Borders of the (Fictional) World: Fan Fiction Archives, Ideological Approaches, and Fan Identity. In the push to get the video done and the synopsis posted, I did not get a chance to convert the data graphics from our Powerpoint to web images. I have done that now, so you can see how each of the fifteen archives breaks down on the seven statements we studied.
I've also run numbers for the Open Scrolls Archive. OSA was not included in the data sets used for the paper because they barely missed the requirement that 5% of participants use that archive for posting their work. (4.78% of authors who answered the question, "Which sites have you used or do you use to post Tolkien-based fan fiction?" selected OSA.) I was *this* close to including OSA despite its missing the cutoff but, in the end, decided to stick by my decision for where to cut off archives from inclusion. It seemed to be opening a can of worms–worms with troublingly small sample sizes–to say nothing of the amount of work I was already undertaking in putting together data for fifteen archives. Adding a sixteenth just wasn't practical at the time.
But not including OSA meant that we didn't have a het archive in the study. We had a slash archive, a couple of genfic archives, an anti-slash archive, and many that didn't take a position on genre one way or another. But an archive that positions itself as an archive for het–not an anti-slash archive* where het therefore becomes the default–was conspicuously absent. So when Rhapsody asked me why OSA was missing, it gave me a good excuse to run their data and look at it side-by-side with what I already had. The rather interesting results that I have found in recent week concerning het authors further whetted my curiosity.
I'm going to present the Powerpoint graphic for each of the seven statements and then show the data for OSA below the graphic with a brief discussion when warranted. Just as a reminder of the methodology here: Participants were asked to respond to a statement about their Tolkienfic-writing habits with five possible responses–Strongly Agree, Agree, Disagree, Strongly Disagree, No Opinion/Not Sure. All of the statements here apply to authors, not readers. The data below shows the percentage of participants for each archive that chose Strongly Agree or Agree for the statement. The line in the middle shows the percentage of all participants who agreed or strongly agreed with the statement, and the gray area surrounding that line shows archives that fall within +/-5% of that number. The three archives that agreed/strongly agreed most often are in red, and the three archives that agreed/strongly agreed least often are in blue.
"It is important to me to write stories that I think Tolkien would have approved of."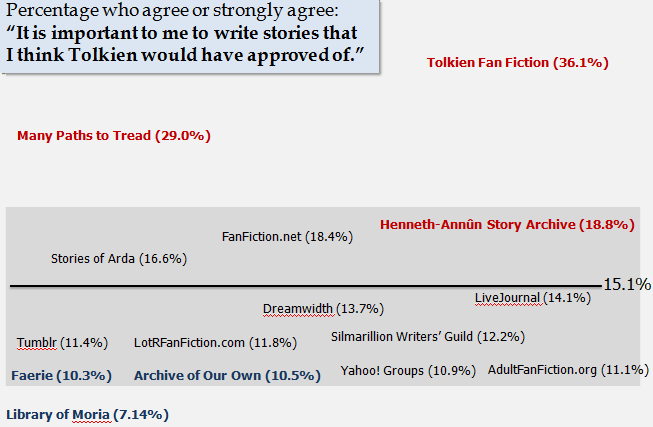 OSA: 10.7% agreed or strongly agreed.
This puts OSA among the archives least likely to care whether they think Tolkien would have approved of their stories or not. This statement goes along with the next in comprising the "morality" category of archives (see the circle graphic below).
"It is important to keep my stories consistent with Tolkien's moral beliefs."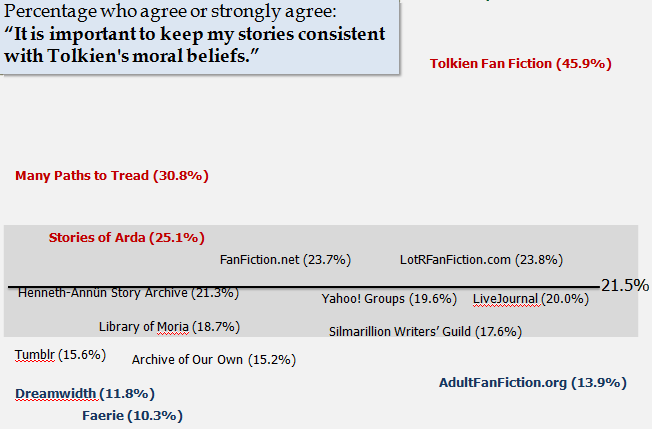 OSA: 17.8% agreed or strongly agreed.
Again, this is lower for OSA than for authors overall, which suggests that Tolkien's morality is relatively unimportant to authors on this site. This is a pretty big difference between OSA writers and het writers overall. Het writers were the writers most likely to agree or strongly agree with the statement about morality; 32.9% agreed or strongly agreed with the statement, which is significantly more than authors in general. OSA, which depicts itself as a het archive, is the exact opposite. This is interesting and gets at the culture of OSA, showing how a site ostensibly created to host a particular genre can nonetheless break significantly from the expectations for that genre.
(Interestingly, 53.6% of OSA authors agreed or strongly agreed with the statement, "I identify myself as a het writer." 25.0% disagreed or strongly disagreed despite the site's overt purpose as a site for het fan fiction. The number who agreed is still higher than for authors overall, only 29% of whom identified as het writers, though it is still not as high as I would have expected.)
"When writing fan fiction, it is important to me to stick to the facts that Tolkien gave in his books."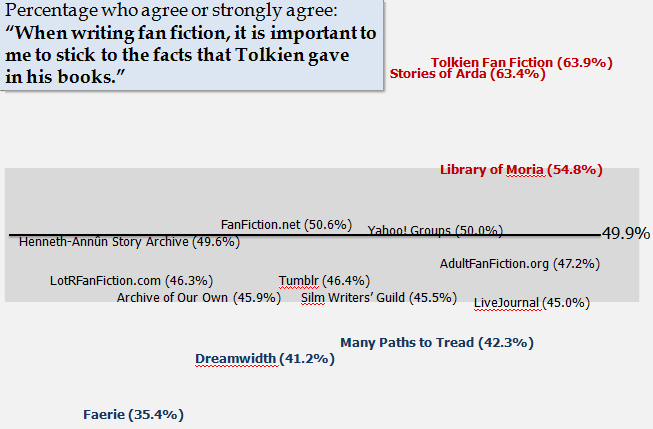 OSA: 39.3% agreed or strongly agreed
Once again, OSA is among the archives where the fewest members agreed with the statement (which formed the "canon-compliant" circle on the graphic below). This again shows a break with what the data has shown of het writers in general: that the genre tends to arise from canon compliance. This just doesn't seem to matter much to OSA writers.
It also possibly explains some of the tension that used to exist between OSA writers and writers on the archives related to Henneth-Annûn: both HASA and Tolkien Fan Fiction, which requires membership on the Henneth-Annûn mailing list. I remember, among my friends from OSA, a sense that they weren't welcome on the groups related to Henneth-Annûn. Perhaps this gets at why: HASA is at or above the percentage for writers overall for all three statements so far, and TFF authors agree most often with all three statements.
"Writing fan fiction lets me challenge Tolkien's worldview."
OSA: 46.4% agree or strongly agree
Now we get into the "critical" category on the graphic below. Here, OSA falls below the number for Tolkienfic authors overall, so a critical purpose seems less important to writers on this site. Here, OSA authors are much closer to the numbers for het writers overall, 44.8% of whom agreed or strongly agreed with this statement.
This statement goes with the next …
"Writing fan fiction lets me criticize Tolkien's world."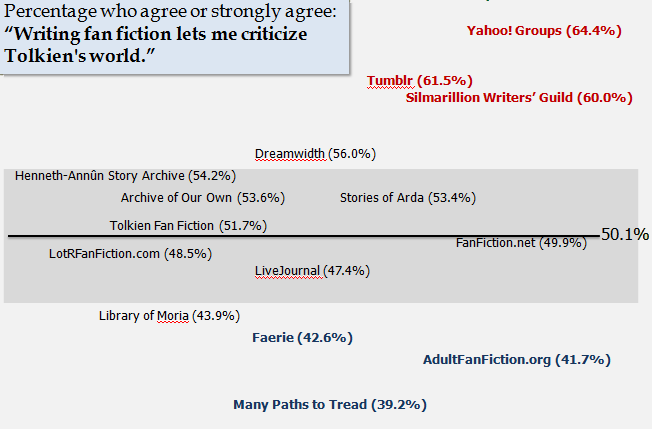 OSA: 46.4% agree or strongly agree
On this milder statement, the numbers for OSA are still lower than for authors overall, but not quite as low as for the previous and more extreme statement about using fanfic to actually challenge Tolkien's worldview. The combination of these two statements show that OSA's culture doesn't place it in the critical category.
"Writing fan fiction helps me to correct problems with race, gender, and sexuality that I see in Tolkien's books."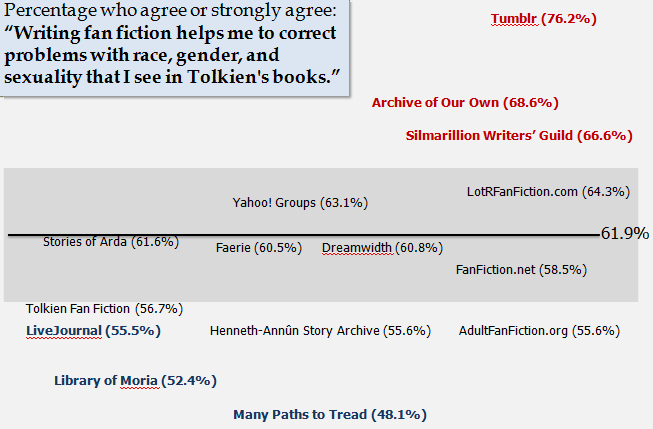 OSA: 46.4% agreed or strongly agreed
I am not surprised the OSA does not tend toward a social justice purpose. But I didn't expect OSA to have the absolute fewest authors agree with the statement of all the archives. Interestingly, it keeps company with the Library of Moria, its counterpart for slash fiction, suggesting that the formation of both archives satisfied authors with a similar purpose but interests in different genres. (Actually, the only statement where OSA and LoM aren't a few percentage points within each other is the statement, "When writing fan fiction, it is important to me to stick to the facts that Tolkien gave in his books." LoM writers tended to agree with this statement, while OSA authors did not. I suggested in the paper that LoM authors may have been eager to counteract the stereotype of authors who care little for Tolkien's work and world but just want to wantonly throw his characters into bed with each other. Het writers–who tend to be highly canon compliant, as shown by my research so far–do not have such a stereotype to overcome. OSA authors can afford to care less about matters of canon.)
"Writing fan fiction allows me to explore or enjoy my sexuality."

OSA: 32.1% agreed or strongly agreed
The data for OSA on this statement surprised me the most. OSA authors are among the least likely to agree with the statement; only MPTT authors agreed less often. This ties back in to the ongoing evidence I've found that the het genre is less about sex than about canon … although we've seen that OSA isn't about canon either! My personal experience on OSA led me to be surprised by these results. The writers I knew on OSA were among the most open about their use of fanfic for sexual gratification and their pure enjoyment of sexual relationships involving an attractive male character. Apparently the authors I knew were a minority, however!
Here we see strong deviation with LoM too, with which OSA has generally kept company, as discussed above.
Rhapsody asked me where OSA would fall on the graphic about archive cultures.
The fact is that OSA doesn't fall into this graphic anywhere. Their writers are motivated by none of these purposes to a significant degree. If ever I needed an illustration of how these data are a snapshot and do not capture all experiences within the Tolkienfic community, this would be it.
There are a few additional statements related to motives for writing that I did not have a chance to analyze for this paper. It is possible that OSA will fall into one of them. It is possible that there is something going on with that site that my survey failed to capture at all, which would be especially interesting since I was once active on that site and had many friends who were among the popular authors there. I'm likely going to look at some of those statements this week to see if I can tease out a category into which I can place OSA.
---
*Slash is not allowed on OSA, so why do I say it is not an "anti-slash archive"? The difference, I think is in how OSA presents their purpose for existing:
This fan fiction archive is strictly non-slash. While we have nothing against the genre, we noted that there are many exclusive sites for slash but not so for het. Therefore, Open Scrolls was created to provide het writers a place to host their work. (emphasis added)
In our paper, I touched on this with my remarks about site policies versus gatekeeping: What a site includes versus what it excludes. OSA includes het, so necessarily excludes slash, although the exclusion of slash is not its reason for existing. The difference may be subtle, but personally speaking, it always made a huge difference for me in making me comfortable using OSA when I was not comfortable using the anti-slash SoA.