This week, we wrap up the series on Tolkien fan fiction community demographics. (Although if there is a demographic-related question I did not answer, just ask in the comments!) So where shall we go next? I'd love to know what data my readers and followers would most like to see. Please take a minute to take this brief survey on which topic I should explore next! These are not the only topics left in the works–just those that I've thought about doing–and if there's something you're dying to know more about, I have provided a space to share your ideas.
Now onto this week's topic: age in the Tolkien fanfic community!
---
In the popular imagination, fan fiction writers are teenagers penning awkward homages to their fictional crushes. It is hard for the mainstream media to write about fan fiction without using the term teen somewhere in the article. And while there is nothing wrong with young adults writing fan fiction (no matter the sneering, patronizing tone of most of those mainstream articles), in the Tolkien fandom, imagining most fanfic authors as teenagers is far from accurate.
This week, as I continue to present and analyze the data from my Tolkien fan fiction survey, I want to look at the age of participants in our fandom. I asked simply, "What is your age?" and participants could fill in their response. The number of participants to respond was 1039. Thirteen people chose not to respond to the question. One data point had to be dropped because the response was "8." While not impossible, it is doubtful that an eight-year-old participated in the survey, so I suspect this was a typo and is therefore unusable. Three people, for some reasons, entered valid ages but as negative numbers. I am also assuming these were errors and corrected them to positives. Therefore, the n for this question was 1,038.
Never Trust Anyone over 30? (There Goes the Neighborhood …)
As of this writing, I am 34 years old, and most of my fandom friends are older than me. The Tolkien fan fiction community is not universally young (especially compared to fandom in general, as you will see below). Defining "teenager" as anyone between the ages of 13 and 19, inclusive, only 25.6% of readers and writers of Tolkien-based fan fiction are teenagers, making teenagers a minority within the fandom. To offer a point of comparison, 28.5% of Tolkien fan fiction readers and writers are 30 or older, according to my survey. (I'm eagerly awaiting acknowledgement of this from the popular press, but I suspect I will be waiting a long time.)
The graph below shows the age distribution of participants in my survey (n = 1038).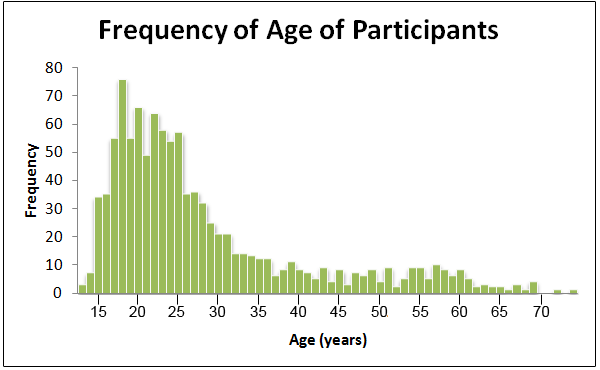 The graph shows that participation in the Tolkien fan fiction community spike in the late teens through mid-20s. Participation decreases dramatically into the mid-30s. But then something happens that isn't true of the fandom community as a whole: Participation more or less plateaus, only showing another slight drop-off once participants reach their early 60s.
The Fan Fiction Community vs. the Tolkien Fan Fiction Community
Using Lulu's AO3 Census as a point of comparison, the Tolkien fan fiction community is older than the fan fiction community as a whole and shows greater diversity with respect to age. The AO3 Census shows that most respondents fell into a rather narrow age range: late teens into their twenties. More than three-quarters (77.2%) of respondents to her census fell between the ages of 16 and 29. In comparison, only about two-thirds (67.1%) of respondents to my survey fell in the same age range. The table below compares Lulu's data and mine using her age categories.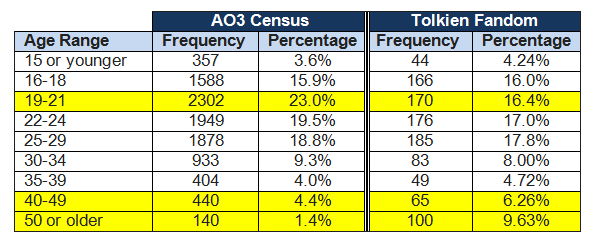 What is interesting to me is that the data march almost perfectly lockstep with each other except in a few key areas. In young adulthood, AO3 had greater participation than the Tolkien fan fiction community. However, in the 40-and-older categories, we see much greater participation in the Tolkien fanfic community than on AO3. It is illustrative in and of itself that Lulu lumped everyone over 50 into a single category whereas I would have broken this into three decade-sized grouping for the Tolkien community. This group, after all, contains almost one in ten Tolkien fan fiction participants.
Not surprisingly, averages for the Tolkien fanfic community are larger as well. The mean age is 27.93 years (standard deviation of 12.39 years) compared to a mean age of 25.1 years (standard deviation of 8.2 years) for the AO3 data. The median average (the more statistically accurate for the Tolkien fanfic survey data) was 24 years; for the AO3 data, Lulu gives the range of 22 to 24 years.
Both show that there is a "sweet spot" for fan fiction participation that begins in the late teens and extends through the twenties. This isn't particularly surprising. This is an age of exploration for many people and a time when young people are breaking free from constant adult supervision to have more freedom online. This is also the age where fewer people have demanding career and family obligations. The Tolkien fan fiction community, however, retains participants into adulthood and far beyond the point where fan fiction writers in general have stopped participating.
Other Factoids Related to Age and Tolkien-Based Fan Fiction
Not surprisingly, there is a moderate positive correlation between a participant's age and the number of years they had been writing (n = 614). The correlation coefficient r between participant age and years writing Tolkien fan fiction is 0.48. For the nonstatistical types out there, this means that older participants are more likely to have more years experience with writing Tolkien fan fiction. However, this is still a moderate correlation, which means that it is not just young people who begin to write fan fiction, and entry into the fan fiction community can occur at any age (even though it is more likely when the participant is young). A future post will look at initiation into the fan fiction community and will explore this further.
Age is a major determining factor in whether the participant wrote for fandoms other than Tolkien. I divided the data into three age groupings at the two points where participation experiences a major drop-off: age 25 and under, ages 26 through 36, and age 37 and older. The older participants were far less likely than the younger participants to write for fandoms other than Tolkien. The data below shows the percentage in each age group that answered YES to the question, "Do you write fan fiction for other fandoms?" (n = 634).
25 and under: 80.2%
26-36: 77.8%
37 and older: 66.4%
The assumption tends to be that people become more conservative as they grow older. In the Tolkien fan fiction community, it is more complicated than that. As an indicator of conservative beliefs, I looked at responses to the statement, "It is important to keep my stories consistent with Tolkien's moral beliefs," within the three age groups described above (n = 632). The oldest group (37 and older) was the most conservative, agreeing or strongly agreeing 28.7% of the time. However, the youngest age group (25 and younger) was slightly more conservative than the middle group (ages 26 through 36): 20.4% of the younger group agreed or strongly agreed with the statement compared to 16.1% of the middle group. Also interesting was that the youngest group chose No Opinion/Not Sure at about twice the rate as the two older groups: 21.3% for the youngest group compared to 10.6% and 11.9% for the middle and oldest groups, respectively.
Responses to the statement "Writing fan fiction helps me to correct problems with race, gender, and sexuality that I see in Tolkien's books" showed that progressive views of fan fiction as a revisionist genre tend to belong to younger fans. Between the two younger groups, the differences in the numbers who agreed or strongly agreed with the statement were relatively small: 70.8% for the 25-and-under group and 66.4% for the 26-to-36 group. However, the younger fans were much more likely to strongly agree with the statement: 40.3% strongly agreed compared to 30.4% for the middle group. The oldest group of fans was much less likely to approach fan fiction with a revisionist purpose in mind, and only 37.7% agreed or strongly agreed with the statement.
Analysis
The diversity in age of the Tolkien fan fiction community compared to fan fiction writers in general is a major difference between the two communities. While Tolkien fan fiction writers are most likely to be in their twenties, just like fanfic writers in general, participants remain involved in Tolkien fan fiction much later in life than do writers and readers of fan fiction in general. While most participation on AO3 had dropped off after participants reached their 40s, Tolkien fanfic readers and writers remained involved, often into their 60s and 70s.
The diversity of ages of participants in the Tolkien fan fiction community is, I believe, inextricably entangled with another aspect of this community that makes it unique compared to fan fiction communities in general: the tendency of Tolkien fan fiction participants to be monofandom. In Lulu's AO3 Census, only 13% of participants were monofandom (personal correspondence). While I will have a future post focusing on multi- and monofandom tendencies in the Tolkien fanfic community, the numbers shown above show that significantly more Tolkien fan fiction participants are monofandom.
What I suspect is happening in our fandom, therefore, is two-fold. Tolkien fan-writing is almost sixty years old, and many participants in our community pre-date the current popular fandom platforms (like AO3 and Tumblr), and some pre-date Internet fandom, meaning that their experience of fandom was sometimes in place long before current fandom trends emerged. Secondly, many of these fans came to fan fiction because of a love of Tolkien, not because of a general interest in fan fiction or fandom. This creates a sort of isolation where many Tolkien fanfic participants remain completely unaware of trends, discussions, and genres that are popular in the broader fan fiction community. I believe that the interaction of these two factors explains, at least in part, some of the observations I've made over the years of how the Tolkien fanfic community differs from the fanfic community in general:
Tolkien fan fiction tends to be more critically focused within the legendarium rather than viewing the legendarium as a comment on our world (or our fan fiction as the opportunity to use the legendarium as a means to comment on our world). The relatively late interest in using Tolkien fanfic to discuss social justice issues is an example of this.
Likewise, Tolkien fan fiction is more often source-oriented than genre-oriented. I remember once reading a comment on Metafandom about how fan fiction was "all about the porn" and feeling irritated by that statement because it didn't represent my experience at all. Or hearing of people who will read in a fandom they know nothing about because they like the genre or kinks in the story. While the Tolkien fanfic community has its share of adult-rated stories, they are nowhere near prevalent enough that one could interpret the community as being "all about the porn," and I doubt many adult-oriented writers would even make that statement. Likewise, the concept of kinks in fan fiction was slow gaining traction in the Tolkien fanfic community (and remains far from universal).
The Tolkien fanfic community tends to resist new technology and social media platforms. We can see that even today: Our fandom is still centered largely on Tolkien-specific archives (or archives, like the Open Scrolls Archive and Of Elves and Men, that began as Tolkien-specific) and continues to have a high level of activity on platforms like LiveJournal and even Yahoo! Groups that were hubs of multifandom activity years ago.
Tolkien fan fiction and the communities built around it take approaches that are uncommon in other fandoms. For example, a good many Tolkien fans read his work in a religious context and explicitly build their fanworks around a Christian morality. This is possibly a result of religiously oriented criticism that pre-dated the rise of Internet fandom and fan fiction.
The Tolkien fan fiction community is heavily invested in resource creation as a way to help newcomers catch up with fans who have been discussing the legendarium for years or even decades. And, as with the first item, those resources are very often inward-looking (e.g., debating the merits of Tolkien's various theories over the origins of Orcs) versus outward-looking (e.g., discussing how the Orcs represent racist ideas), although the latter certainly exist as well.
The age diversity of the Tolkien fanfic community can create conflict as well. The Tolkien fandom has always experienced tension between veteran fans and newcomers who were often brought in by greater accessibility of the texts (e.g., via the pirated Ace books or the Peter Jackson films). In his book Tolkien's Triumph: The Strange History of 'The Lord of the Rings', John Lennard notes that even early on, Tolkien fan societies were formed as a bastion against new fans who were viewing The Lord of the Rings through a countercultural lens (Part 4). Likewise, the Tolkien fan fiction community has a long history of gatekeeping against genres and interests that tend to mark a writer as a newcomer.
Part of that is simply the fact that Tolkien-based writing is more than sixty years old. This creates a different situation than a recently released movie or television show that generates a sudden burst of fannish energy and where all fans are entering the fandom at more or less than same time. In the Tolkien community, you may have an author who joined a Tolkien society thirty years ago after reading the books in college and an author who only became interested in the fandom a year ago because of the Hobbit film trilogy. One could argue that this has more to do with time in the fandom than age, but since they are moderately correlated, then they really can't exist independently of each other.
Furthermore, responses to the question about morality and the question about revisionist writing to "correct problems with race, gender, and sexuality" show that there are differences in how various age groups view these issues. This isn't surprising. Given the breadth of ages in the Tolkien fanfic community, reading and writing Tolkien fanfic is like sitting down to a holiday dinner with one's extended family and the different experiences and viewpoints that can arise even independent of political and religious affiliation. The concerns of a twenty-two-year-old and a fifty-two-year-old aren't necessarily the same. Certainly their life experiences aren't. This can cause, at best, private eyerolling over the cluelessness of the other and, at worst, overt conflict over the "correct" way to write Tolkien fanfic.
This week's discussion has drawn a lot on my own experiences and perceptions of the Tolkien fan fiction community. However, I am familiar with only part of the fandom and have only been involved for around ten years, so if your experiences differ, please do share in the comments!
---

"Tolkien Fan Fiction Survey" by Dawn Walls-Thumma is licensed under a Creative Commons Attribution-NonCommercial 4.0 International License.
You may use, share, repost, or reprint the statistics and information in this post in any nonprofit project. If you do so, you MUST credit me with my name (Dawn Walls-Thumma in academic/professional contexts or Dawn Felagund in fannish contexts) and link to the Tolkien Fan Fiction Survey category on my blog: http://themidhavens.net/heretic_loremaster/category/tolkien-fan-fiction-survey/
For permissions not covered by this license or any questions, email me at DawnFelagund@gmail.com.
See the Tolkien Fan Fiction Survey masterpost for more information on this project, permissions, et cetera, et cetera.