The Tolkien Fan Fiction survey was open to both readers and writers of Tolkien-based fan fiction. As the Tolkien Fan Fiction Survey masterpost explains, that requirement was too steep for twenty-one participants, who didn't read or write Tolkien-based fan fiction (and presumably misunderstood the purpose of the survey), in addition to one person who did not grant consent to participate. That left 1052 participants providing responses to answer my first question: How many participants in the Tolkien fan fiction community read stories, how many write them, and how many do both?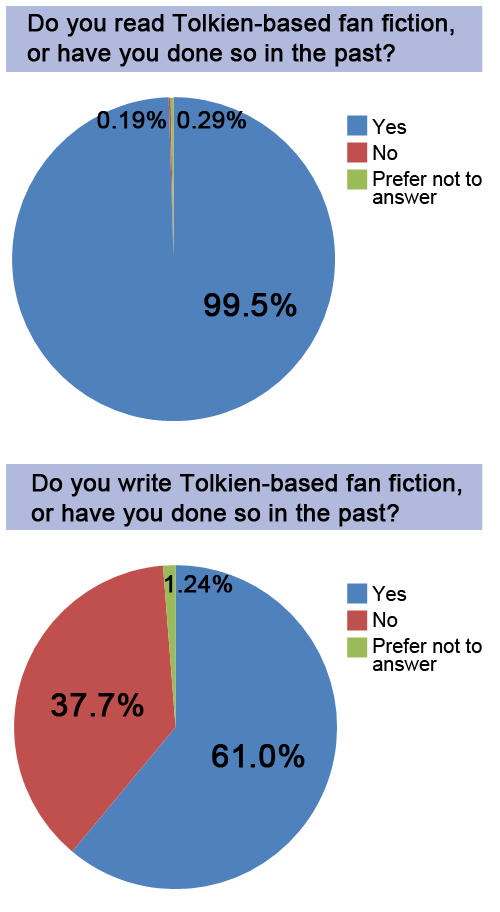 We Are a Community of Readers
The Tolkien fan fiction community overwhelmingly consists of people who read Tolkien fanfic. Probably this is not a surprise: 99.5% of respondents answered YES to the question "Do you read Tolkien-based fan fiction, or have you done so in the past?"
Only two (0.19%) participants answered NO to the question. (Three people or 0.29% preferred not to answer.)
A majority of participants were also writers, with 61.0% answering YES to the question "Do you write Tolkien-based fan fiction, or have you done so in the past?" (37.7% answered NO and 1.24% preferred not to answer.)
Other Reading & Writing Factoids
Participants who identified as women are slightly less likely than participants who identified as male or nonbinary to be writers: 89.1% of respondents who answered YES to the question about whether they were writers identified as female, whereas 92.0% who answered NO identified as female. While the difference is not huge, I found it interesting, since fan fiction is roundly considered to a genre dominated by women. And of course it still is–but men and nonbinary people in the Tolkien fan fiction community are more likely to be writers as well as readers.


| | | | |
| --- | --- | --- | --- |
| | F | NB | M |
| Writers | 89.1% | 6.80% | 4.11% |
| Non-Writers | 92.0% | 5.15% | 2.84% |

Participants who write are slightly older than those who don't. Writers had a mean age of 29.52 years and a median age of 25 years (n = 631). Nonwriters had a mean age of 25.27 years and a median age of 22 years (n = 391).
Writers are much more likely than nonwriters to leave feedback on the stories they read. I asked, "Do you leave comments or other feedback on Tolkien-based fan fiction stories?" and 86.5% of the writers answered YES. Of the nonwriters, only 59.3% answered YES to that question.
Responses to a similar question confirmed the same trend. I also asked readers of Tolkien-based fan fiction to "[e]stimate the percentage of Tolkien-based fan fiction stories that you leave comments or other feedback on." Once again, writers tended to leave feedback more often than non-writers. The mean average of the percentage of stories on which participants reported leaving feedback was as follows (n= 899):
Yes = 40.1% (n = 562)
No = 23.3% (n = 325)
Prefer not to answer = 34.6% (n = 11)
Analysis
It was not surprising to me that many more people in the Tolkien fan fiction community participate as readers rather than writers, nor was it surprising that writers are almost universally readers as well. I suspect this would be the case among fans of any genre of fiction: Many people enjoy reading that genre without ever attempting to write it themselves. If anything, I'd guess the number of writers in the Tolkien fanfic community to be higher than among fans of other genres. (Keep in mind, I do not have data to back this up.) I would be very surprised, for example, if 61% of readers of fantasy or mystery novels also write stories in those genres. That most writers are also readers is also not surprising: Writers in any genre are presumably interested and inspired by others who write in that genre. I doubt you could find a romance writer, for example, who does not and has never read romance novels. Fanfic would be no different.
I was surprised by the demographic trends I uncovered. Fan fiction has a reputation of being a young writers' genre and one that is embarked upon with little in the way of preparation or training, yet the data showed that writers tended to be older than those who were just readers. This suggests there might be an initiation stage involved in writing fan fiction, and in the Tolkien community, that initiation stage is fairly long. Camille Bacon-Smith proposed something similar in her study of pre-Internet Star Trek fandom: Fans were initiated into fan fiction by a mentor, who taught them how to read and understand the meanings behind the various fanfic genres and gradually introduced them to more controversial material. (New fans were steered away from genres like slash and hurt/comfort, for example, that they were not yet prepared to understand.) Internet fandom, of course, changed that, but it seems that participants (in the Tolkien fandom at least) might be undertaking a self-guided initiation period where they read fan fiction to learn the canon and the norms of the community before beginning to write it themselves.
Another possibility is that writers have a stronger and longer-running commitment to the community, which makes them older as a general rule. Readers, on the other hand, are perhaps more likely to be casual fans who enjoy reading Tolkien fanfic but aren't deeply involved or comfortable with the fandom to write it themselves.
I was definitely surprised by the results on gender. The differences are small but fan fiction is generally viewed as a woman's genre; I have seen meta critiquing fanfic as a genre for pulling women out of o-fic genres that carry the possibility of earning profit or prestige for one's writing. (Now isn't the time to get into my dislike of this argument, but last week I happened to write briefly about fanfic, profit, and prestige here.) In short, I've always had the impression that many people believe fanfic to be a genre that is safe and welcoming to women, whereas they feel less comfortable and welcome in other genres.
The numbers don't show that. Men are slightly more likely to make the leap from reading to writing Tolkien-based fan fiction. This may reflect a higher level of confidence in their abilities and canon knowledge. Without meaning offense to male fanfic writers, I have noticed that male writers often have a high (sometimes inflated) opinion of their own work and its contribution to the fandom. (#NotAllMaleWriters. Most are lovely people and many are genuinely talented.) I have never, for example, received an email from a woman promoting her fanfic or suggesting that my archive is going to be improved by her stories on it. I have received several such emails from male writers, and given that men are a tiny minority of the Tolkien fanfic community, I don't think this anecdata is without value.
I'm withholding discussion of the nonbinary numbers for now. I suspect this may have an archive component that I will explore more fully in a later post. However, do feel free to share thoughts on these numbers in the comments.
I was not surprised that writers tend to leave more feedback than people who just read; I was surprised by the extent of the difference here. My initial reaction as an author–and like most fanfic authors, as an author who wonders at the difference between her read counts and review counts–is that there are a lot of readers who are enjoying free entertainment without giving much back. Then a more reasonable version of me jumps in and points out that I don't actually know what these readers contribute to fandom; I just know that more than 40% of them don't leave feedback. (It's important to note that I didn't distinguish between comments and one-click feedback like kudos and likes in this question. I will probably devote a whole month to data on habits related to leaving feedback–I have started on these posts, in fact–so I'm not going to go too deep into this now.)
There are plenty of reasons why people don't leave feedback. A lot of sites require registration to leave feedback, and many readers may lurk without accounts and therefore be unable to leave feedback. (I know, I know, authors–I hear you: So why not register for an account? Many of us were lurkers at one point and can surely empathize with this shadowy and often anxiety-ridden form of fandom existence.) One participant left a comment on their number, noting that they don't leave feedback because English is not their first language. As someone who can read Spanish pretty well but would rather eat a stinkbug than chance the humiliation of commenting in it, I can understand this feeling. The Tolkien fandom is a very international community, so this may be a bigger factor than we confident English speakers tend to consider.
Writers, on the other hand, are presumably comfortable enough in English to write in it and have accounts on archives to post their work. But there's also the elephant in the room: Writers know what it's like to be a writer. They know the time and energy that goes into producing a story. They know the feelings of anxiety and anticipation when they share a new story on an archive. They know the thrill of getting feedback on that story and the disappointment and self-doubt that can result when a story is met only with silence. As much as we try to explain this to people who don't write, it's not the same as actually living it.
And, at the end of the day, more than 13% of participants were writers and still didn't leave feedback on the work of other writers. This is an interesting group whom I will likely look at more in the weeks to come.
Do you have other interpretations of the data? Did any of the numbers surprise you? Is there data I didn't share that you'd like to see? Please comment and let me know!
Next week's topic … Gender in the Tolkien Fan Fiction Community.
---

"Tolkien Fan Fiction Survey" by Dawn Walls-Thumma is licensed under a Creative Commons Attribution-NonCommercial 4.0 International License.
You may use, share, repost, or reprint the statistics and information in this post in any nonprofit project. If you do so, you MUST credit me with my name (Dawn Walls-Thumma in academic/professional contexts or Dawn Felagund in fannish contexts) and link to the Tolkien Fan Fiction Survey category on my blog: http://themidhavens.net/heretic_loremaster/category/tolkien-fan-fiction-survey/
For permissions not covered by this license or any questions, email me at DawnFelagund@gmail.com.
See the Tolkien Fan Fiction Survey masterpost for more information on this project, permissions, et cetera, et cetera.