Here is the video of my presentation at the New York Tolkien Conference on Saturday, June 13. I am unfortunately hiding behind the monitor on the podium for most of the video–the perils of recording with a handicam in rooms that aren't necessarily ideal for recording–but the audio is relatively clear throughout, and that's really what matters. You'll just have to take my word that I looked beautiful.
Below the jump is a synopsis of my paper, as well as the data that I displayed on the Powerpoint that you probably can't read unless you have the eyesight of the Elves.
Who Wrote The Silmarillion?
Why, J.R.R. Tolkien did, right? Well, yes … and no. Yes, of course, Tolkien actually wrote down The Silmarillion. However, he almost always wrote from the point of view of an in-universe narrator or loremaster. This point of view can be rather hard to detect in the published Silmarillion, but as I explain in my paper, that is because Christopher Tolkien made the editorial decision to remove the attributions to the in-universe authors. In 1958, JRRT indicated on a scrap of paper that he intended to recast the Silmarillion stories as Númenorean in transmission rather than Elven (Myths Transformed). He subsequently eliminated the Elven narrators from the text of the Later Quenta Silmarillion; however, he did not revise that text otherwise to suggest a change in narrator. Whether he reconsidered later on or just never got to it, we'll never know. On the strength of his expressed intentions in the 1958 note and the surface edits to the Later QS, Christopher decided to exclude the narrators from the published Silmarillion, a decision that he later regretted as "an excess of vigilance" (Peoples of Middle-earth, p. 153).
Given that, I think it is safe to continue to treat the Quenta Silmarillion as a document of Elven origin written with its original in-universe narrators in mind. Chief of those narrators and the subject of my study is Pengolodh. We actually know quite a bit about Pengolodh, and he is an interesting choice of narrators for the bulk of the history about the First Age. The essay Quendi and Eldar (HoMe XI) gives us quite a bit of his background.
He is of mixed Noldorin-Sindarin ancestry, so he likely has a bias toward these groups.
He was born in Nevrast after the arrival of the Noldor and before the settlement of Gondolin. Almost nothing happens during this time period. Seriously, look at the Grey Annals (HoMe XI). Nothing happens.
Since the people of Nevrast migrated to Gondolin after about 100 years (Grey Annals), this does conveniently mean that Pengolodh was probably too young to attend Fingolfin's Feast of Reuniting and very likely not only never met a son of Fëanor (Fëanor himself is long dead at this point) but also probably never met Fingolfin or Fingon.
Gondolin was, of course, distinguished by its isolation. JRRT even notes in Quendi and Eldar that Pengolodh was naive of languages other than Quenya, due to Gondolin's isolation. He was presumably pretty dang naive of history too. One can only speculate where he learned what he professes to know.
Gondolin was also ruled by Turgon, who was "unappeasable in his enmity for Fëanor and his sons" (Shibboleth of Fëanor, HoMe XII). This likely not only cemented a bias against the Fëanorians in young Pengolodh but also may have placed certain lines of historical thought off-limits, or at least politically unwise.
Pengolodh's known sources include the people of Sirion. If there was anyone who hated the House of Fëanor more than Turgon? There they are.
All of this makes JRRT's use of Pengolodh as his primary narrator for the Quenta Silmarillion an interesting choice, considering that Pengolodh lived in isolation for the most exciting parts of the First Age and had multiple good reasons why the information he did learn was extremely biased.
Historical Bias and The Silmarillion
In 1992, Alex Lewis presented a paper entitled "Historical Bias and the Making of The Silmarillion" at the J.R.R. Tolkien Centenary Conference, the proceedings of which were copublished by Mythlore and Mallorn. The crux of Lewis's argument is that Bilbo's sources for the Red Book of Westmarch–which comes to us as The Silmarillion–likely relied heavily on Elrond. Lewis makes a good case that the historical bias observed in The Silmarillion matches Elrond's lineage, with favoritism shown to Elrond's ancestors. Those who aren't related to Elrond get less page-time and endure more criticism. The slide below from my Powerpoint presentation shows the results of Lewis's analysis in chart form.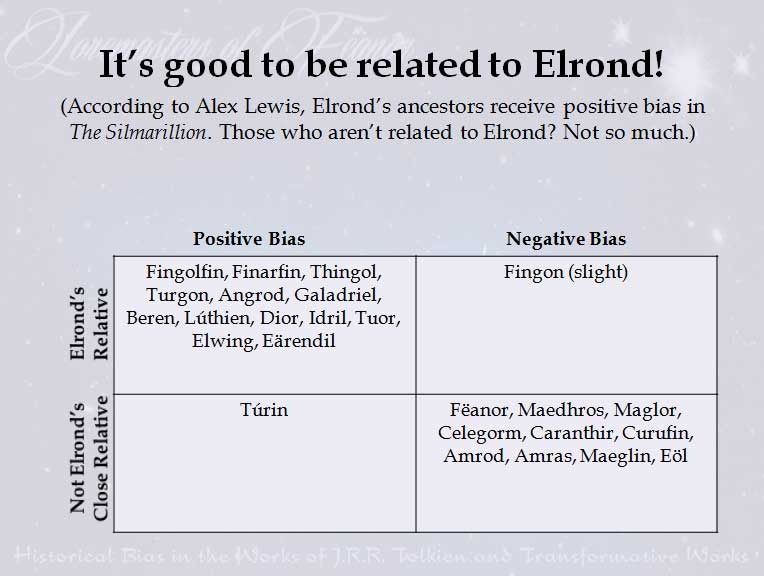 Lewis did not have access to the complete History of Middle-earth series when he authored his paper. The same biases that he documented could be equally attributed to Pengolodh. (Who, after all, shared many of the same allegiances that Elrond did.)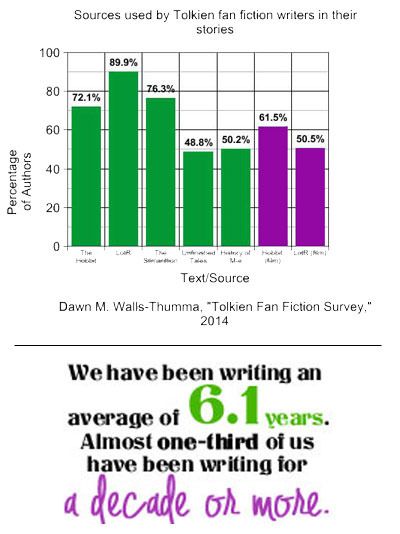 I found Lewis's paper quite by accident. Whenever I find a new Tolkien source, the first thing I usually do is look up Fëanor. When I first discovered the Wheaton College Tolkien database, the first thing I did (of course) was look up Fëanor, and this was how I discovered Lewis's paper. With over a decade in the Tolkien fan fiction community, I was quite familiar with the concept of historical bias in Tolkien's works. This was the first time I'd seen it given scholarly treatment. And, indeed, it is one of the only times–to the best of my knowledge–that scholars have tackled this topic. In fact, Lewis's paper has been cited only six times–despite being from a prominent source–and never in a peer-reviewed publication. Although most Tolkien fanfic writers put Tolkien scholars on pedestals and find much to learn from them, this was one of the occasions where the fandom side of the community was working with an issue that had yet to receive much in the way of scholarly attention.
The images to the right (which use preliminary data from my Tolkien fan fiction survey–still ongoing! hint hint!
) actually come from the handout for my 2015 Mythmoot presentation on Tolkien-based transformative works. They show the same information that was presented in less attractive form in my Powerpoint. What they show is that Tolkien fan fiction writers in general not only possess considerable experience in working with the texts–unlike other fandoms where writers may produce fan fiction for only a few months before moving on to a new fandom–but also work with Tolkien's more challenging, posthumous texts, such as Unfinished Tales and the History of Middle-earth series. Although few fan fiction writers would call themselves experts and even fewer scholars, in many cases, that is exactly what they are.
Historical Bias and Tolkien Fan Fiction
I felt as though historical bias formed the basis of generating fan fiction for many writers. Documenting this, however, is a challenge. The term "historical bias" is not widely understood, so I could not ask about it directly in my survey, and it takes many forms that made it difficult to formulate an indirect question about it. Authors' motives aren't always clear from stories themselves. Given these challenges, I decided to look at the popularity of different characters identified by Lewis as receiving positive or negative bias in The Silmarillion. The graph below shows the results.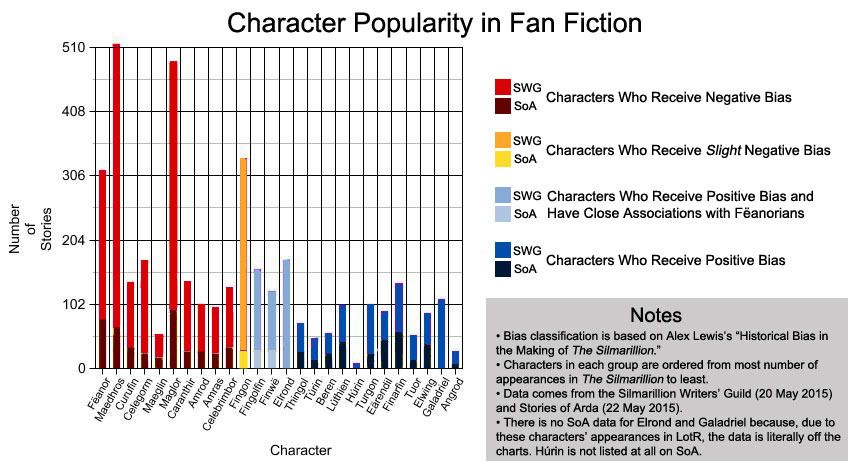 What this graph shows is that characters who receive negative bias in The Silmarillion (in red) are more popular among fan fiction writers than those who receive positive bias (in blue). A few points about this data:
The frequency with which a character appears in the text did not predict popularity, so the claim by fanfic writers that they like developing characters that Tolkien didn't focus on–97% of fan fiction authors agreed or strongly agreed with this motive in my survey–isn't so simple. Bias was a better predictor of popularity than
Likewise, character complexity and a darker tone aren't predictors either. Thingol is doubtlessly a complex character, and Túrin has probably the darkest story of any character in the legendarium. Both receive positive bias from Pengolodh. Neither are very popular.
A character who receives positive bias becomes more popular if he is strongly associated with a character who receives negative bias. This is the light blue group: Elrond, Finwë, and Fingolfin. Remove the stories involving negative-bias characters from their stats and their numbers drop to more closely resemble the rest of the positive bias group.
Some of the most popular characters in the positive bias group are women. Mapsburgh points out that these characters also receive bias by virtue of being women. Their accomplishments are downplayed in The Silmarillion in a similar way that the heroic deeds of the Fëanorians are. This suggests that, again, writers are detecting that bias (whether they realize it or not) and are perhaps driven to tell these women's full stories.
Characters who are subject to negative bias, therefore, seem to attract the attentions of fan fiction writers the most.
Bias as a Springboard for Fan Fiction
I identified several ways in which historical bias and fallibility can serve as a starting point for fan fiction.
To correct discrepancies within/between texts. Fallible in-universe loremasters and narrators can make mistakes in terms of what happened; these stories correct these mistakes or resolve discrepancies between different drafts/versions.
To represent characters/groups who lacked access to the in-universe transmission of the texts. These stories bring characters into focus who either aren't well-represented in the texts (e.g., the Avari) or who are subjected to negative bias (e.g., the Fëanorians).
To represent groups who are traditionally ignored by the historical record. These stories assume a historical bias that erases the contributions of groups that lack access to traditional power, such as women, characters of color, and LGBTQ+ characters. My survey results show that representing these groups is important to a significant number of fan fiction writers. Percentages who agreed or strongly agreed with the statement "Fan fiction allows me to explore the perspectives of  …"

female characters: 78%
characters of color: 41%
LGBTQ+ characters: 61%

To amend and revise cultural/character traits depicted in the texts that are the likely result of bias. These stories consider why the in-universe loremasters might have favored one culture over another and been inaccurate in their depictions of groups like the Avari or Easterlings.
To consider actual events that are depicted mythically. These stories infer what really happened when the in-universe loremasters have clearly exaggerated for literary or mythical purposes. Other stories consider the realistic basis behind magical or mythical phenomena.
To challenge the moral compass of the texts. These stories offer alternate ways of looking at the morality of the texts under the assumption that the moral perspectives offered by the in-universe loremasters are not absolutes but merely one way of interpreting historical events.
This isn't an exhaustive list but is based on my own experience working with historical bias as a basis for fan fiction and uses described to me by other writers.
Conclusion
Alex Lewis concludes that the historical bias in The Silmarillion is part of what creates its sense of realism. I'd go a step further and assert that historical bias creates the sense of depth that so many readers find attractive about Tolkien's world and that Tolkien himself desired to create, finding it attractive in works like Beowulf that inspired him as a young man. Once one reads the texts as a single representation of one person's perspective, the story deepens ad infinitum, becoming all but boundless.
What is interesting to me is how little attention historical bias has been given by the scholarly community. Because I keep a foot in both pools (though more on the fandom side), I know that each side has its topics that don't necessarily interest the other side. This seems to be one that has achieved a measure of importance in the fan fiction community without exerting much influence on the scholarly side–at least, not that I've been able to find.
Should it? I suppose that is the question at the heart of this study. I do think historical bias is valuable to some–not all–studies of Tolkien's world. The fact that he seems to have deliberately constructed it certainly suggests it should not be ignored.