This week's post ties up a few loose ends from the past weeks' posts and discussions surrounding my and Janet's cowritten paper The Borders of the (Fictional) World: Fan Fiction Archives, Ideological Approaches, and Fan Identity. In the push to get the video done and the synopsis posted, I did not get a chance to convert the data graphics from our Powerpoint to web images. I have done that now, so you can see how each of the fifteen archives breaks down on the seven statements we studied.
I've also run numbers for the Open Scrolls Archive. OSA was not included in the data sets used for the paper because they barely missed the requirement that 5% of participants use that archive for posting their work. (4.78% of authors who answered the question, "Which sites have you used or do you use to post Tolkien-based fan fiction?" selected OSA.) I was *this* close to including OSA despite its missing the cutoff but, in the end, decided to stick by my decision for where to cut off archives from inclusion. It seemed to be opening a can of worms–worms with troublingly small sample sizes–to say nothing of the amount of work I was already undertaking in putting together data for fifteen archives. Adding a sixteenth just wasn't practical at the time.
But not including OSA meant that we didn't have a het archive in the study. We had a slash archive, a couple of genfic archives, an anti-slash archive, and many that didn't take a position on genre one way or another. But an archive that positions itself as an archive for het–not an anti-slash archive* where het therefore becomes the default–was conspicuously absent. So when Rhapsody asked me why OSA was missing, it gave me a good excuse to run their data and look at it side-by-side with what I already had. The rather interesting results that I have found in recent week concerning het authors further whetted my curiosity.
I'm going to present the Powerpoint graphic for each of the seven statements and then show the data for OSA below the graphic with a brief discussion when warranted. Just as a reminder of the methodology here: Participants were asked to respond to a statement about their Tolkienfic-writing habits with five possible responses–Strongly Agree, Agree, Disagree, Strongly Disagree, No Opinion/Not Sure. All of the statements here apply to authors, not readers. The data below shows the percentage of participants for each archive that chose Strongly Agree or Agree for the statement. The line in the middle shows the percentage of all participants who agreed or strongly agreed with the statement, and the gray area surrounding that line shows archives that fall within +/-5% of that number. The three archives that agreed/strongly agreed most often are in red, and the three archives that agreed/strongly agreed least often are in blue.
"It is important to me to write stories that I think Tolkien would have approved of."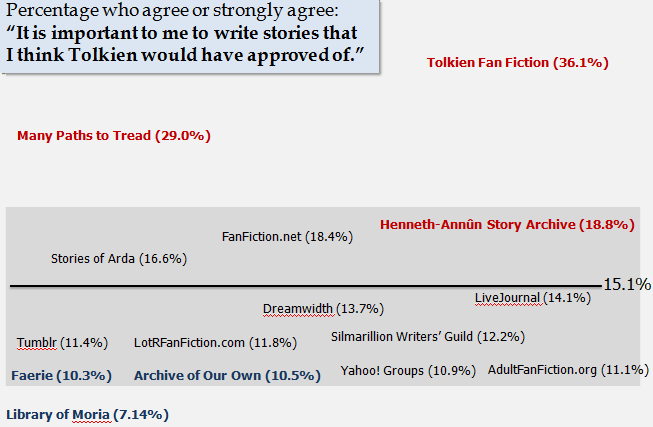 OSA: 10.7% agreed or strongly agreed.
This puts OSA among the archives least likely to care whether they think Tolkien would have approved of their stories or not. This statement goes along with the next in comprising the "morality" category of archives (see the circle graphic below).
"It is important to keep my stories consistent with Tolkien's moral beliefs."